Australia focus for Morris machine testing
07 June 2018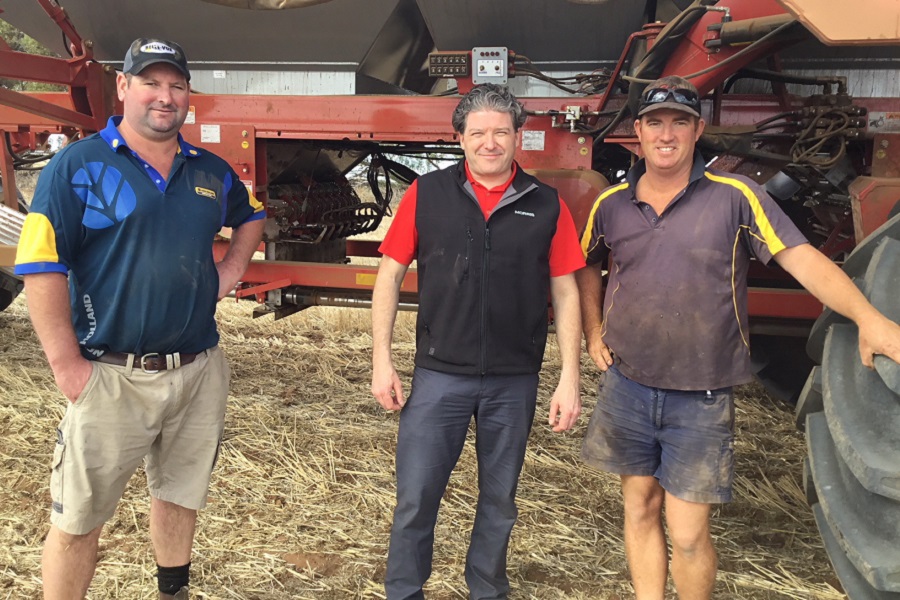 Justin Ward, of Belle-Vue Trading at Warracknabeal in Victoria, and Morris Industries President and Chief Executive Officer Ben Voss look over a Morris 9550 air cart with input control technology (ICT) with Victorian grower Nathan Williams, Beulah, during the Morris group's recent tour across the country.
AUSTRALIA is increasingly becoming a world testing site for Morris Industries' ground engaging implements and a strong team from the North American manufacturer recently traversed the country visiting its national distributor, dealers and farmers.
Members of the company's management team, including President and Chief Executive Officer Ben Voss, as well as research and development (R & D) engineers, visited sites in Western Australia, Queensland, New South Wales and Victoria.
Ben said Morris was one of few companies sending more resources and people to Australia, and talking direct with farmers to ensure a thorough understanding of the requirements for one of its most important markets.
The first testing of some of Morris' latest machine developments is being carried out in Australia, where large areas can be covered in a short time period under tough conditions, and the group was gathering data to feed back to the company's production team in Canada.
Ryan Green, a Design Engineer with the Morris R & D group, said Australian farmers were increasingly demanding durability from their machinery.
"Australian farmers have the capability to use their machinery over much longer periods and they operate in much harsher soil conditions, which has put the focus on durability,'' Ryan said.
"This has really driven the design of future machines from Morris. For example, chrome pivot pins are being used with some machines because of the success chrome has had in Australian seeding conditions.
"The need for durability has also been a bonus for Morris' wider production, because it has driven the company to achieve a higher standard that benefits all of its customers world-wide.''
Don Kirkwood, Director of Australian Marketing and Sales, said Morris had been looking at new technologies to strengthen the framework of its machines, ensuring they were designed for Australian conditions and suited to large horsepower tractors.
"Machines for Australia need to be leading edge, incorporating elements like input control technology (ICT) for section control, and they must be durable enough to handle the conditions and have a five-year wear life before having to be rebuilt,'' Don said.
Ryan said Morris' ICT was a popular feature for farmers, with savings in seed and fertiliser becoming more evident as input prices continued to rise each year, and the wide range of seeding equipment from Morris performed well and suited the varied conditions in Australia.
He said in future, increasing the ability for equipment to utilise data would continue to be a key focus of manufacturing.
"Farmers are looking for new ways to enhance their knowledge about what is happening to the plant from seeding to harvest, so there is strong interest in increased data gathering.''
Don said another strong focus for the future would be in bulk assembly.
"The assembly warehouse will have components to build the full range of sizes, with vendor purchases, such as tyres, hydraulic components and hardware nuts/bolts, being shipped direct to the assembly depot.''
He said Morris and national distributor, McIntosh Distribution, had made strong commitments to the Australian market with infrastructure and a large team to support the extensive business across the country.
Significant training is also carried out with distributor staff and Morris technical personnel travel to Australia to help train dealer service staff.
McIntosh Distribution Director Cam McIntosh said he was impressed with the renewed emphasis by Morris to develop products suited to Australian farmers.
"They are taking a serious look at what the exact requirements are for the Australian farmer,'' Cam said.
"Morris personnel are visiting Australia with increasing regulatory to gain direct feedback from end users.''
For further information on some of the latest developments from Morris, farmers can visit www.innovationunearthed.com