'Best Bar Ever' Kept on Seeding at Kondinin
29 June 2018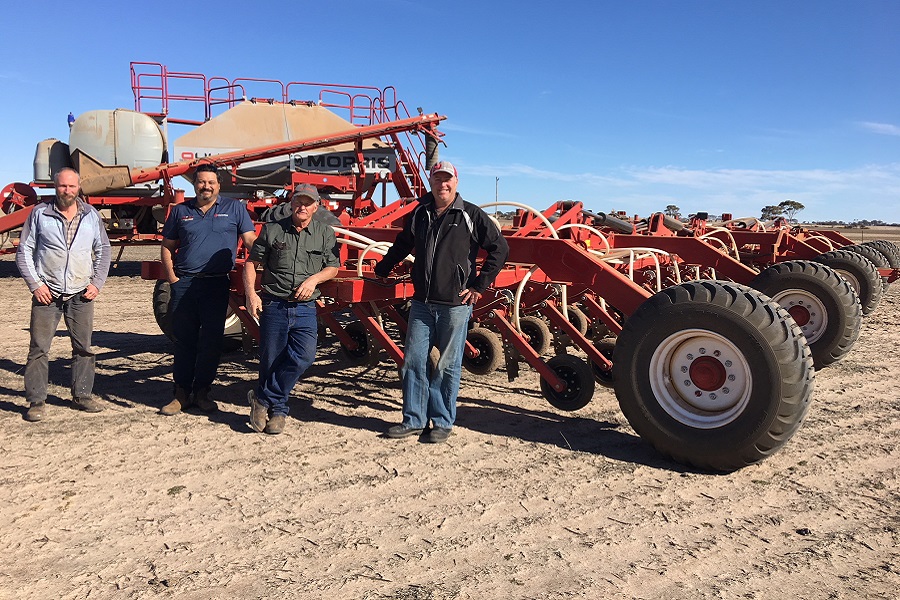 Lee Armstrong, seasonal worker for the Smoker family at Kondinin, Max Herbert, McIntosh Distribution, Allen Smoker and Eliot Jones, McIntosh Distribution, with the new Morris Quantum air drill during its testing on the Smoker's property at seeding this season.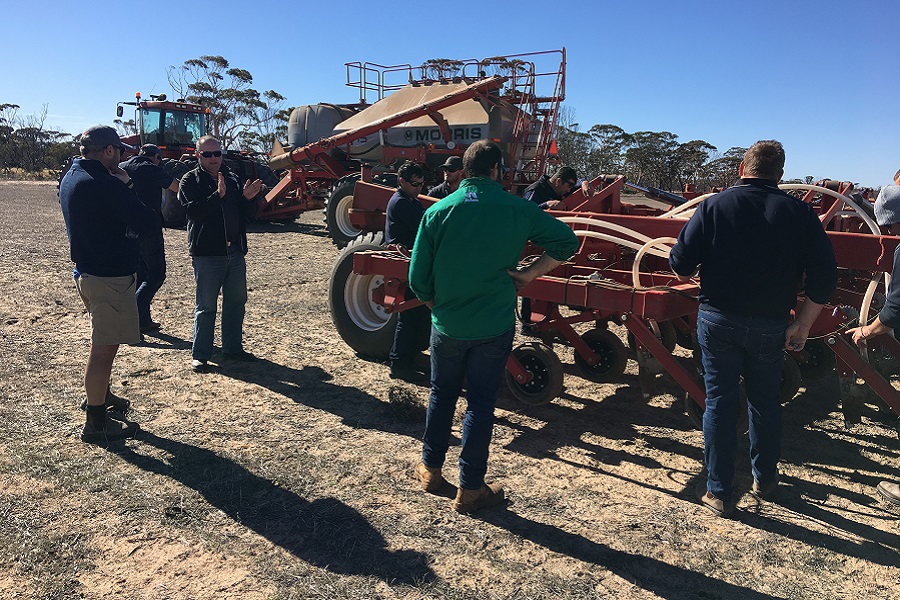 Growers pictured discussing the design of the new Morris Quantum air drill. They were particularly impressed with the air drill's frame strength and large flotation tyres.
SOME of the toughest sowing conditions ever experienced this season were an ideal test for the newly launched Morris Quantum air drill and its strong performance was not lost on Kondinin grower Allen Smoker.
"It's as good a tillage equipment as I've ever used, so it's going to be hard to part with it,'' said Allen, after testing the new air drill for the family's 3000ha cropping program.
Hitched to a Morris 9445 air cart in its second season for the Smokers, the Quantum drill was pulled by a 360-kilowatt (480-horsepower) Case tractor, which also offered a power boost to 400kW (535hp).
The air drill was set up on 300-millimetre (12-inch) tyne spacings, was working to a depth of 10cm and seeding at 1.5-2cm – and it achieved this in a wide variety of conditions.
The Smoker's property comprises soils ranging from sandplain to heavy red country, as well as Salmon Gum soils that can be extremely firm at depth.
"For the majority of the 3000ha, it was some of the toughest conditions I've ever worked tillage equipment in because it was dry and there was absolutely no moisture down at the depth we were working,'' Allen said.
"We certainly put it to the test and it worked extremely well.
"The Quantum bar works better because it's heavier and holds things in place a lot better. The shorter shanks are also a part of that. We were able to back-off the packing pressure on the press wheels quite a bit on some of the lighter soils.
"The structure of the bar – the way it's put together – gives it a lot of strength and it sits very well.
"We put it through some pretty harsh conditions and there were no signs of it breaking up.
"We didn't see any movement with the tynes, so we are pretty confident it would hold together well.''
The new Quantum air drill incorporates Morris' patent-pending, interlocking frame technology that has made it 154% stronger than previous drills, and which, combined with the increased weight and stronger openers featuring 2.5cm (1in) chrome pins, provides the ability for deeper tilling.
New 10 x 15cm (4 x 6in) tubular frames with the Quantum are connected with chrome pins that are 27% larger than those used on previous machines.
Other features include improved shank spacing options; large single flotation tyres; 3-metre controlled traffic capability with metric spacings and 5.4m transport width; 75% less parts and 60% less weldments; a stronger front and rear hitch design; and an active hydraulic system with ability to control Morris auto-lift and auto-pack control.
The heavy-duty hitch uses 20% more steel than previous hitches and is connected to the frame with chrome pins that fit into hardened steel bushings.
Allen said the shorter shanks, bigger bolts – also being the same size – and less parts would be a factor over time and help overcome the issues of previous drills.
He said the evenness of sowing depth across the Quantum drill was excellent because every tyne was individually pressured.
"I've been involved in the evolution of no-till in this area since the 1980s and this is the best bar I've ever worked because of the weight distribution and individual pressure on the tynes. With the computer-controlled switching and lifting, it's just a pleasure to work.''
Allen said neighbouring farmers who took an opportunity to view the Quantum when the dry conditions forced them to stop seeding on their properties remarked that they would still be sowing if they had a similar machine.
"This is exactly what the Quantum did for us. We didn't go hard in terms of long hours, but we were able to keep going in the dry conditions. That was a big benefit because the crops were out of the ground soon after the rain came.''
Eliot Jones with McIntosh Distribution, national distributor for Morris, said various growers who had since inspected the Quantum air drill recognised a massive change in design and frame strength.
He said they remarked that the interlocking frame design was logical, which had partly been made possible through the use of new tube laser technology for automated precision cutting.
"Growers have commented how well the bar sits and how straight it is, with very little movement, and the ability to now dig deeper,'' Eliot said.
"It will allow them to now get down to depth, with no damage to the bar.''
He said the large flotation tyres were another critical feature for numerous growers, especially those in northern areas for deep ripping, but where there were also soil compaction concerns.
"Even on sandy soils, the ability to float with such large tyres is a bonus.''
"The fact the tyres are standard across the Quantum air drill range is also a big plus, rather than having the requirement to fit another tyre if necessary,'' Eliot said.