Independent Tests Prove Weed Seed Kill Rate With New iHSD
05 April 2019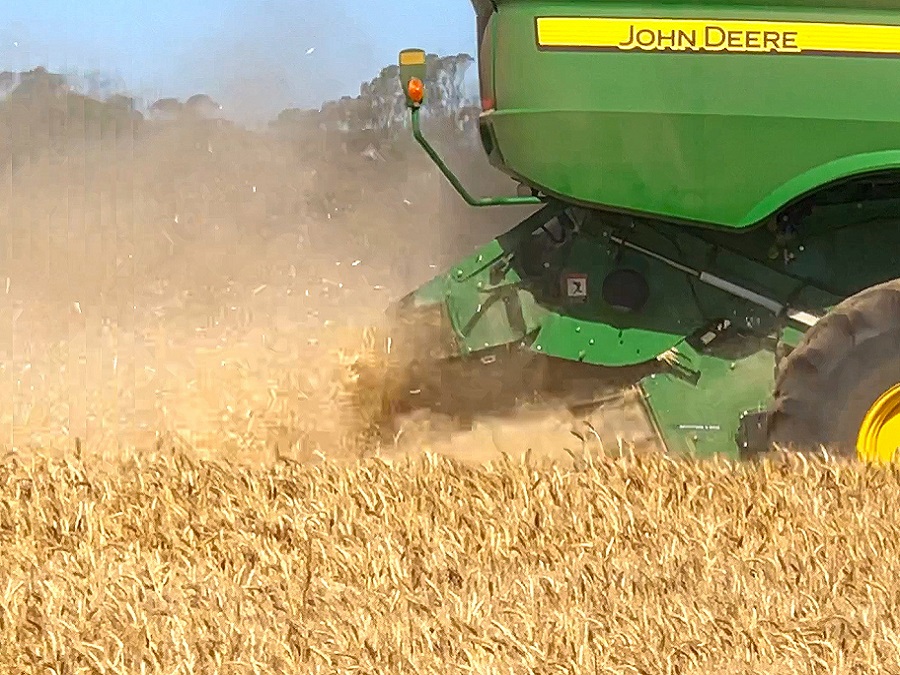 INDEPENDENT commercial testing has confirmed a weed seed kill rate of up to 99 per cent plus with the latest version of the Integrated Harrington Seed Destructor (iHSD) at various harvester speeds.
The new vertical, mechanical direct drive iHSD was released earlier this year following the successful testing last harvest of eight vertical units fitted to a range of harvester brands including John Deere and New Holland. It can also be fitted to Case IH harvesters.
Invented by WA grower Ray Harrington and developed by UniSA with investment from GRDC, the iHSD has undergone continuing development by SKF Engineering and DeBruin Engineering, together with national distributor, McIntosh Distribution.
The new vertical system uses the same mill set as the original hydraulic version, but the big attraction for growers is the fact it is available at only $85,000 plus GST and fitting costs.
Mike Walsh from the University of Sydney and John Broster from Charles Sturt University, Wagga Wagga, recently tested the vertical iHSD under commercial wheat harvest conditions near Broomehill in Western Australia to evaluate its weed seed kill efficacy.
Mike said the system was tested over 12 strips at three different harvester speeds in an area of wheat crop free of annual ryegrass. During the harvest of each strip, susceptible annual ryegrass seed was fed into the system as the chaff stream entered the mill.
Collected chaff samples were then processed at Charles Sturt University to determine the level of seed survival for each strip, with annual ryegrass plants counted and removed each day over a four-week period.
Mike said the efficacy of the vertical iHSD on annual ryegrass seed was very high, ranging from an average 98.2 per cent at a harvest speed of 4 kilometres per hour up to 99.5pc at 6kph, equivalent to the levels of the horizontal iHSD.
He said there was no significant difference in the seed kill rate between the three speeds of 4, 6 and 8kph, indicating no effect on its efficacy with increasing chaff amounts produced by the higher speeds.
Peter Newman, Western Extension Agronomist with the Australian Herbicide Resistance Initiative (AHRI) and WeedSmart, said about one quarter of the nation's graingrowers were planning to invest in harvester-integrated weed seed control technology and the new vertical iHSD was now a strong option.
Peter said many growers were waiting for harvester-integrated systems to become more cost-effective and reliable, and the vertical iHSD was a positive development.
Scott Walton successfully tested a new vertical iHSD unit fitted to one of his John Deere S680 harvesters on his property near Carnamah last harvest.
"We had a very good year and with the strong grain prices it will be one of our best. We were harvesting at 6-8kph and we kept the vertical mill revs up at 3000 RPM,'' Scott said.
He said they fitted a Steinbauer power chip to the harvester for extra power and torque and following some minor engineering adjustments initially, they completed 260 hours harvesting with the vertical system.
"All we did was grease it every day and drive it.''
Scott said it was a bonus the new vertical iHSD had been designed so no permanent modifications to harvesters were required.
"We can unbolt it from that harvester and put it on the other S680 and you would not know that it had been on there.''
He said the new vertical, mechanical direct drive system was also simple and its stone trap, which collects any foreign material coming into the mill, was a great feature.
Johnny Inferrera with McIntosh Distribution said the stone trap demonstrated its convenience during the recent testing of the eight vertical units at harvest.
"We had two retractable fingers and a knife section land in the stone traps and they did not cause any damage to the mills – and it's a two second job to empty the traps,'' Johnny said.
He said growers who attended recent demonstrations of the latest system also were particularly impressed with its simplicity and easy installation.
"A simple, mechanical direct drive system drives the whole machine. There are no gearboxes and electric pumps, so it is easy to run and there are less components to monitor.''
"The installations don't require any major changes to harvesters and they use all genuine parts, so if growers decide to remove the systems, the harvesters are returned to their original set-up.''
For the 2019 grain harvest, a limited number of 100 of the vertical, mechanical direct drive iHSD are available for WA growers.
For further information on the new iHSD and its role in reducing herbicide resistance and improving returns from cropping investment, growers can contact their local iHSD dealer.