Miller Sprayer Shines at Southern Drive Day
13 April 2018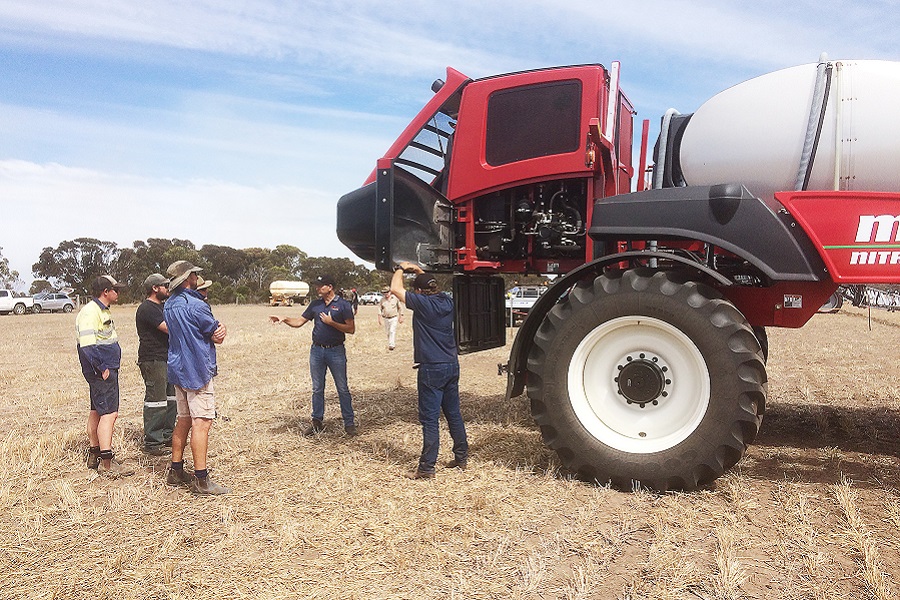 Photo caption: Growers pictured discussing the operation of the Miller Nitro 6000 Series sprayers and Miller Spray Air system during the self-propelled sprayer ride and drive day held by Stirlings to Coast Farmers at the Peiper family's property near Woogenellup last week.
A SELF-PROPELLED sprayer ride and drive day coordinated by the Stirlings to Coast Farmers group last week has once again put the spotlight on the Miller Nitro 6000 Series sprayers and the manufacturer's powerful Spray-Air technology.
The event was held on the Peiper family's property near Woogenellup and featured a range of machines, including a Case Patriot, Goldacres G6 Crop Cruiser, Agrifac Condor with spot spraying technology, Croplands RoGator 1300B, John Deere R Series with carbon fibre boom, Hardi Rubicon 9000 and a Miller Nitro 6365 with the Spray-Air system.
Michael Fethers of McIntosh & Son at Albany, which is a sponsor of Stirlings to Coast Farmers, said the group held a successful tractor ride and drive day two years ago and this time wanted to turn its focus to self-propelled sprayers.
Michael said 20-30 growers attended the event and it could have attracted greater interest if not for several fires in the region on the day that were out of control.
He said the growers took the sprayers for a test drive and also completed a walk-around of the machines with dealer and product staff.
"A lot of farmers came with their boomspray operator. We have a customer who has a demonstration machine and they came to the event for another look with their worker,'' Michael said.
"This is the whole idea of these days. If you are in the market for a sprayer, you can get in and drive and operate them to get more of a feel for the machines.''
He said everyone was looking for boom ride and growers were impressed with the new suspension system for boom ride and ride comfort on the 6365 Miller Nitro.
The Miller HydraLink system with all-wheel suspension, as well as its 1.8-metre trailing suspension arms, ensures accurate spraying even at high speeds, boom stability, and it delivers excellent ride comfort.
"The 50:50 weight split between the front wheels to the rear wheels, whether the tank is full or empty, also provides for a very even footprint on all wheels,'' Michael said.
He said growers were particularly excited with the new Miller drive system and associated traction control that was achieving up to 30 per cent fuel savings compared with equivalent-sized machines.
"The fuel economy was the big thing for many growers, with Miller coming a long way with its latest sprayers,'' Michael said.
The new variable displacement hydrostatic drive system and planetary torque hubs means faster response to speed changes through more efficient transfer of power to the ground, even at lower engine RPM.
Michael said with the Miller Spray-Air system and its ability to reduce water rates with applications, growers liked the fact it helped to keep them in paddocks for longer.
He said for every boomsprayer on the market, it was all about getting chemical on the plant and the Spray-Air system delivered more droplets to the target with higher chemical concentration for increased efficacy or weed kill.
Miller Spray-Air uses air-assist and air-atomisation technology, forming one powerful spray nozzle system. Growers have fingertip control of the droplet size and speed of the air delivery for any spraying application. They can consistently atomise spray droplets in a range from 200-500 millilitres per minute per nozzle – spaced 25 centimetres apart.
"With Spray-Air, growers are getting 36m of downward force, pushing droplets toward the target, compared with freefall from conventional machines,'' Michael said.
He said the downward force created by Spray-Air was important in situations including when there was stubble shading and for disease control in large, dense crops, where fungicide needed to hit the underside of leaves.
Michael said the system also allowed for a greater speed range without affecting droplet size.
"Due to the air-shear droplet system, a range of droplet size can be created over a wider pressure range.''
"With Spray-Air's cone-shaped pattern, you are getting good spray entry from the forward and rear facing angles of the jets. It can be very hard to hit the rear side of a plant when you are travelling forward, but Spray-Air does a great job of that with the rear facing nozzles and its air movement,'' he said.
Kojaneerup grower and Stirlings to Coast Farmers member Ashton Hood took the opportunity to test drive some of the sprayers at the event.
"It's great to see everything in one spot and to trial everything,'' Ashton said.
"It's hard just looking at something in the yard. You test drive a car when you buy one, but you don't always get to do that with machinery.''
Ashton crops 2500 hectares to mainly canola and some barley and wheat at the family's 'Liscombe' property and also runs 3000 Dohne breeders.
His spraying program is carried out with a 5365 Miller Nitro and they invested in a 36m Miller Spray-Air boom with the machine last year, set up with dual lines to gain maximum coverage during in-crop spraying.
"The system has allowed us to run 70 litres (per hectare) of water with the dual lines and 40L/ha with the single line,'' Ashton said.
"We normally used 60-100L/ha on the single line and we are now getting coverage as good as before – and slightly better coverage in the canopy.
"We put test papers out in the paddock and we could see the improved coverage.''
He said the reduced water rates were providing good spraying efficiencies and they did not have to run a nurse tank.