Morris C2 Contour Drill - Quick crop establishment avoids winter stock feed gap at Cowra
18 April 2016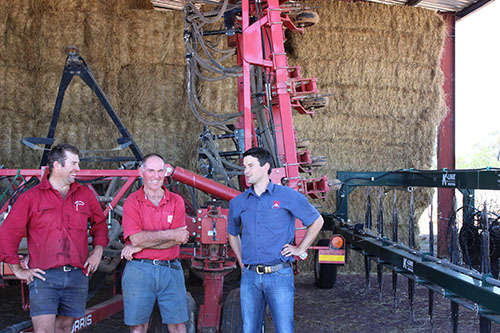 Adam (left) and Graham Wallace, Cowra, with Beulah Machinery Manager Travis Hengen, who assisted the Wallaces in purchasing their 14-metre (47-foot) Morris C2 Contour drill.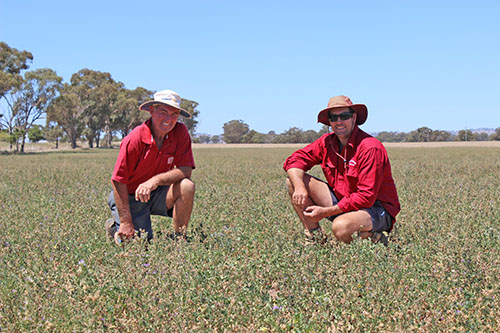 Cowra farmers Graham (left) and Adam Wallace in a lucerne crop sown with their 14 metre (47ft) Morris C2 Contour air drill. They will soon strip the crop for seed.
ENSURING a fast and consistent crop germination is crucial for the Wallace family's livestock enterprise at Cowra.

The ability to get a crop out of the ground as soon as possible allows them to use their wheat, canola and oat crops for grazing and avoid a winter feed gap.
Adam and Sarah Wallace, together with Adam's parents, Graham and Maureen, farm 1400 hectares and a further 460ha of leased land at Cowra.
The family has just finished shearing 7000 sheep, but at times runs up to 9000 head, rearing 2100 prime lambs each year and running a self-replacing Merino flock.
They crop between 600-800ha annually, cutting some oats and wheaten hay, but storing all grain on-farm for their own use or later on-selling to dairy producers.
They also grow lucerne and this season will be trialling some grazing clover varieties.
A third generation farmer, Adam said livestock production made more economic sense for them than solely grain production.
He said supplying prime lambs over-the-hooks to the supermarket trade had been a solid market, but the ability to produce all their own feed was an integral link in the chain.
The lambs are finished on hay, grain and green feed where possible.

To aid feed production, three years ago the Wallaces invested in a 14-metre (47-foot) Morris C2 Contour drill from local dealer, Beulah Machinery, to use with their existing three-bin air cart.
"We've got a lot of lucerne, but we do have a little feed gap there when the ewes start lambing, so the sooner we can get a crop germination, the easier the winter is for us," Adam said.
"Sixty per cent of the seed we put in the ground is used for grazing, but we would like to increase that even more if we can.
"The biggest benefit we've found in using the C2 is we're getting every seed up and out of the ground – and at the same time.
"With previous machines, we were getting two or three germinations, which, when it came to feeding off in that 8-10 weeks, you couldn't because there was still some of the crop lagging behind.
"It's also much better for timing in terms of chemicals. If you're waiting for the crop to hit that 5-leaf stage, then the majority of the crop is there at the same time."
Even after grazing, Adam said they were still able to achieve solid yield results, averaging 4.5 tonnes/ha for wheat and 2t/ha for canola.

Crops are fertilised with 110 kilograms/ha of urea upfront, unless they are sown into marginal moisture early, in which case Adam said they reduce the urea to around 60kg/ha and further topdress later.
At the same time, they also apply 100kg/ha of MAP.
Adam said they tried to position canola and wheat paddocks side-by-side so the sheep could go between the two, which had proven to be effective.
"It's been quite interesting, because they seem to have a morning feed of canola and an afternoon feed of wheat," he said.
"We've also found with the 12-inch spacings on the C2 that the sheep prefer to walk through the spacings, rather than on the crop."
This season will mark the Wallace's third with the C2 Contour drill, which they have now set at 12m (40ft) with the 30-centimetre (12in) tine spacings.
The independent shank on the C2 has parallel linkage for ultra-precise seed and fertiliser placement; which in the Wallace's case is a fully granular program.

Each opener follows the contour of the ground, even on undulating terrain, while adjustable packing pressure pulls through damp spots.
"It's more of a direct drilling machine and it's up there with the best," Adam said.
"The service we've received from Travis at Beulah Machinery has been second to none – he's been fantastic.
"The way the Morris follows the ground – it goes up and over contour banks and when you're trying to make every square metre count, that's important.
"My father is a dedicated grazing man and hates every piece of machinery on the farm, except for the Morris – it's the only machine he'll rave about."
For more information on Morris seeding and tillage machinery, click here, or contact your local dealer.