Morris - Section Control Delivers Better Seeding Savings (Farm Weekly Article)
05 July 2016
Farm Weekly
30 June 2016 (Pages 28-29)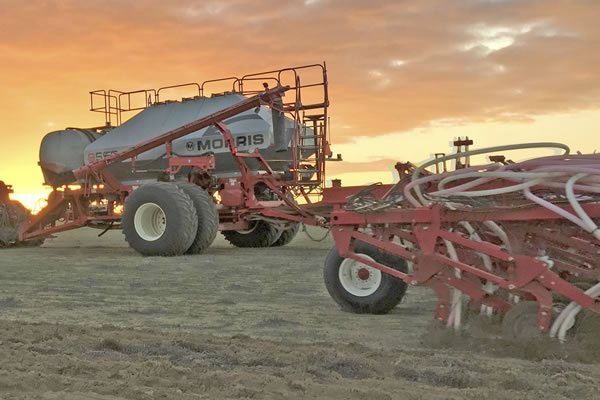 Growers are saving up to 12.5 per cent seed and fertiliser in some paddocks using Morris 9 Series air carts with Input Control Technology (ICT)
WA CROPPERS who have enjoyed the benefits of section control on their sprayers are now reaping the savings from using it on their seeders, right into their back pockets.
Morris, through its national distributor McIntosh Distribution, has had a limited supply of its 9 Series air carts with Input Control Technology (ICT), but a number have been operating successfully for farmers the past two seasons, helping to save fertiliser and seed by eliminating overlap.
Simon and Sara Chipper, who farm with Simon's parents, Chris and Melody, west of York, have sown 2900 hectares to wheat, barley, canola and oats this season and Simon said the section control had saved them at least $35,000 in total product.
This was also from completing just two-thirds of their program after placing a late order for a machine.
The Chippers upgraded to a Morris 9365 air cart with ICT, hitched to their 12 metre (40ft) Morris Concept bar set on 22.5cm (9in) tine spacings and with a single shoot boot arrangement.
The air cart comprises two 6400 litre tanks and another 5000L tank used for Flexi-N liquid fertiliser.
"We have very irregular, undulating paddocks with lots of trees and rock heaps and have been concerned about overlapping issues for some time,'' Simon said.
"We thought if we saved five per cent we would have been happy, but after comparing paddocks this year with last year, we have ended up saving 9.2pc over two-thirds of our program. That's 213ha, which is about four fills.
"We saved nearly $20,000 in compound fertiliser and $5500 in Flexi-N, plus the seed (wheat, barley and canola).
"In about three years, we should get our money back after trading up from our previous Morris air cart, which was onto its third season.''
He said the Morris 9365 with ICT and Topcon X30 controller "worked really well'' and he would definitely recommend it to growers, while the support from dealer McIntosh and Son at Wongan Hills was excellent.
Near Brookton, Murray Hall, who with his brother, Ian, operates Hillroy Farms and leased land totalling 6000ha, said they were hoping their investment in a Morris 9445 air cart with ICT would achieve close to the savings from using section control on their sprayer and they were pleased it was slightly better.
"We were hoping to be within 1-2pc of the sprayer and we have come out about 1pc better,'' Murray said.
The Halls have cropped 3500ha to wheat, barley, canola, oats and lupins.
Their Morris 9445 model incorporates two 7700L tanks and a 5000L liquid fertiliser tank, linked to their 17m (57ft) Morris Concept bar.
"Last year on our yield maps, we saw we overlapped a lot,'' Murray said.
"We have saved at least 7pc and, in some rocky paddocks, up to 10-12pc seed and fertiliser.
"We saved an average $13-$14/ha on all products at our rates, down to about $9/ha on some lower cost paddocks. Savings will be higher when using hybrid seeds.
"When you look at seed and grading, three fertilisers, including copper, and Impact (In-Furrow) fungicide, seeding is the most expensive operation on the farm and we have chopped 7pc off it.
"All farmers have to do is look at the hectares from their airseeder and boomsprayer with section control, and the Morris will do that and slightly better. You can compare your seeding bill to your boomspray and reduce it by 7pc.
"We will go close to paying for the technology in one year and the machine in about six years, but we will direct some of the savings back into our paddocks.''
He said the Topcon X30 controller was also very good, particularly its headland management system and anticipation of areas to seed when negotiating obstacles.
Via GPS and the controller, the Morris gear drive system for the metering wheels can be quickly engaged or disengaged, allowing instantaneous shut-off.
In contrast to other auto shut-off systems, the Morris ICT runs individual metering wheels that can stop product immediately, however, the system remains primed with product and as soon as it re-engages, it is back in the air stream.
The Morris 9 Series air carts with ICT are also expected to be highly valuable in other areas considering seeding bar sizes have increased to around 27m (90ft), enhancing the risk of overlap and higher input usage.
For more information, contact your Morris dealer.