Nitro Sprayer Gives Precision Control
20 September 2018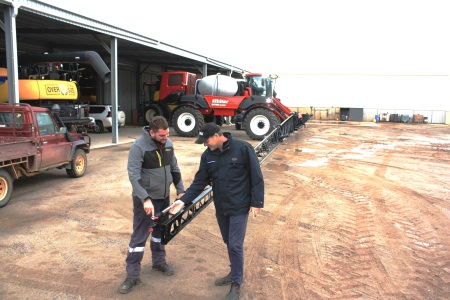 McIntosh & Son mechanic Steve Rowland (left) and McIntosh Distribution's Mike Symes discuss the performance of the Raven Hawkeye Nozzle Control System fitted to this Miller Nitro 6365 self-propelled boomsprayer that was delivered to a Morawa farmer.
MCINTOSH & Son has sold the first Miller Nitro self-propelled boomsprayer in the northern Wheatbelt equipped with a Raven Hawkeye Nozzle Control System.
The Nitro 6365 model was sold to a Morawa farming family.
It is equipped with a 40.9 metre truss boom and an 81-section Hawkeye system, specified to match tramline widths of 13.6 metres.
The Raven Hawkeye system includes turn compensation for a more uniform spray pattern as the outer boom speeds up and the inner section slows down.
According to McIntosh Distribution's Mike Symes, turn compensation has been shown to reduce chemical costs by six per cent.
Hawkeye HD software can switch individual nozzles on and off to eliminate skips or overlaps.
The Nitro is also equipped with Pulse Width Modulation (PWM) technology which precisely switches the nozzles on and off to improve pressure control and nozzle reaction times across the full span of the boom.
It allows the operator to set accurate flow rates and control droplet size with pressure, regardless of flow rate or ground speed, so a consistent spray pattern can be achieved while reducing drift under a wide range of conditions.
"There's constant pressure in the sprayline for droplet management to control each section, so you can change spray quality on-the-go," Mr Symes said.
"And triplex nozzle bodies are standard for quick change to match spraying conditions."
The Miller Nitro 6000 Series models feature an innovative electronically-controlled twin hydrostatic Sauer Danfoss pump system with electronically controlled variable displacement piston-drive motors and Fairfield Torque-Hub planetary final drives that deliver high torque and long life.
According to the manufacturer, the new wheel motors provide greater torque at all speeds, integrated with the Miller HydraLink system with all-wheel suspension.
And 1.8 metre trailing suspension arms ensure boom stability and accurate spraying even at high speeds.
The 50:50 weight split between the front wheels to the rear wheels, whether the tank is full or empty, also provides for a very even footprint on all wheels and a comfortable ride.
The new drive system and associated traction control is claimed to achieve up to 30 per cent fuel savings compared with equivalent-sized machines, while the new variable displacement hydrostatic drive system and planetary torque hubs means faster response to speed changes through more efficient transfer of power to the ground, even at lower engine rpm.