Strong Equipment Focus Ensures Optimum Hay Efficiencies At Clare
15 November 2017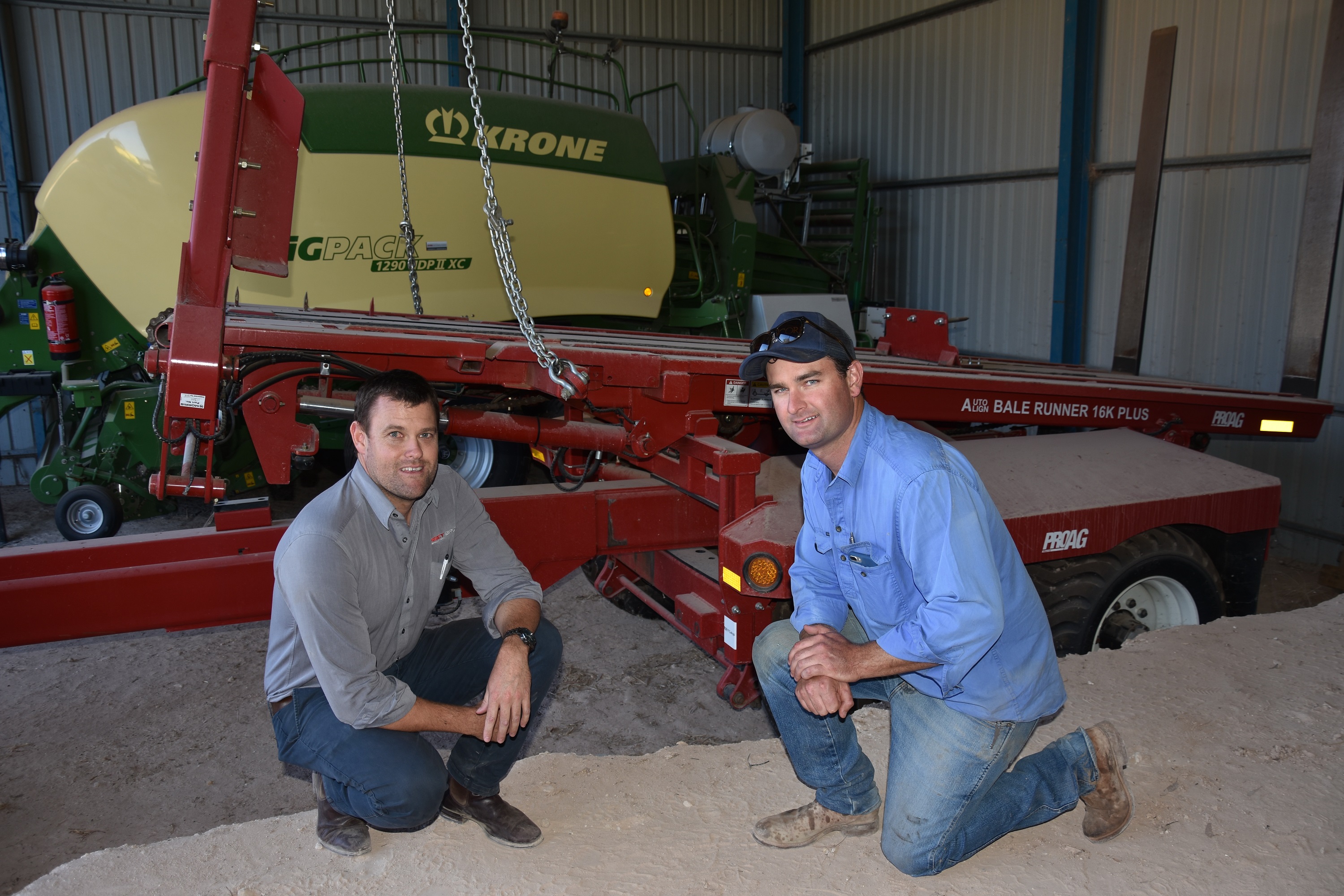 Linc Ramsey, Branch Manager with Ramsey Bros at Riverton, and Clare grower Jim Maitland look over some of the Maitland's hay equipment, including a ProAG 16k Plus Bale Runner and Krone baler.
THE investment required for successful hay production enterprises demands an intense focus on ensuring operations are profitable.
For the Maitland family near Clare in the Mid North, this has meant getting the right equipment to help optimise all operational efficiencies, especially considering the importance of timeliness, particularly at baling time.
Jim Maitland and his wife, Katherine, together with his parents, David and Margot, farm the 1650-hectare 'Anama Park' property, plus share-farmed and leased land. Their cropping program is divided equally between chickpea and lentil pulse crops, durum wheat and the export oaten hay crops.
In March 2011, the Maitlands established a growing value-added food business, working with millers, manufacturers and distributors to produce a range of fine food products from their durum wheat and pulse crops under their own brand, 'Pangkarra Foods'. These include traditional, premium wholegrain dry pasta, stone-milled wholegrain durum flour, wholegrain lavosh and gluten free pasta. More recently, they have also released retorted chickpeas as well as roasted chickpeas, faba beans and broad beans. Pangkarra products are available through independent supermarkets and gourmet food outlets around the country, while exporting has also commenced to Malaysia, Hong Kong and Singapore.
The family's 900ha hay program comprises early through to late maturing oat varieties, including Brusher, Mulgara and Tungoo, suiting the ranging rainfall received that averages from 450 millimetres in the eastern area down to 350mm in the west.
Jim said Brusher on the lower rainfall country can achieve yields of 6-7 tonnes/ha, while Mulgara and Tungoo can produce 7-12t/ha.
He said 8-8.5t/ha hay crops were the most profitable. The hay is mainly sold to the SP Hay and Balco Australia hay plants at Paskeville and Bowmans.
The Maitlands baled 12,500 medium size (4-foot by 3ft) bales last season and 22,500 bales in 2015.
This was previously done with Massey Ferguson 16t per hour and newer generation 38t/hr balers, before the family upgraded to a Krone 70t/hr baler.
The Krone baler produces higher density hay bales that have effectively put 25-30 per cent more hay in the shed and on trucks.
Hay stacking and loading work in the paddocks and at the sheds was carried out by two JCB telehandlers, but last season the Maitlands invested in a ProAG 16k Plus Bale Runner through Ramsey Bros at Riverton.
"With the telehandlers, we grouped the bales into truckloads (62 bales). We would accumulate them in stacks and then the trucks would come in and we would load up,'' Jim said.
"Now with the 16k Runner, we generally bring the stacks back to a headland. We could have two stacks in a paddock.
"Flying around paddocks with a telehandler is a young person's job and it does wear the machines out. It also costs $120/hr running a telehandler and that can come out at about $5/t.
"The baler was doing 96 bales/hr over the 12,500 bales, including turning, and the 16k Runner was keeping up with that. In full operation, it could handle 100 bales/hr. It stacks two rows of six bales.
"Last year, we only had 12 hours of baling between two significant rain events at one point and we started carting straight to the shed. When you have got a small window of opportunity, the 16k Runner is better.
"Everything is stacked square with it too, including in the shed. We were not as happy with the telehandlers for this.''
Jim said he previously worked on a farm in Western Australia that had a ProAG 16k Plus Bale Runner and he thought they could justify one in their operation.
Engineered by Morris, the ProAG's computer controlled operation simplifies picking and makes stacking faster. To pick up and load bales, operators just toggle a loader button, which Jim said was very user-friendly. The computer determines the motion of the alignment arms, loader, grab hooks and power slide.
"There are also a lot of sensors to make sure everything is in the right position,'' Jim said.
Its 'Auto Align' feature allows bales to be turned sideways or to fit between the arms. The alignment arms centre the bale first and grab hooks lift and hold it in place in order to pick up a second bale.
A power slider pushes each bale row back automatically and a push-off feature helps move bales off the forks, although Jim said they didn't have to use this feature due to their high density bales.
A hitch to steer the 16K Plus while backing up to an existing stack also helps to make straight stacks fast.
Heavy duty running gear is connected to the frame with leaf spring suspension and the Bale Runners come with standard high flotation tyres and tandem axles. The dual axles can also be equipped with air brakes.
Jim said the running gear was done very well and the machine required little maintenance.
"Of all the stackers on the market, the ProAg is the most reliable and proven. As a high capacity, robust stacker, it has got the market.''
"You can look at it and see that it will do hundreds of thousands of bales. Other brands that have some fancy features can actually worry you.''
Linc Ramsey, Branch Manager with Ramsey Bros at Riverton, said awareness of the benefits of stackers and related efficiencies was increasing and demand for the ProAG 16k Plus Bale Runners was growing.
Jim agreed and said he had received a few phone calls enquiring about the family's machine and he knew of a farmer who had used another stacker brand before returning it.
He said the other major benefit with the ProAG 16k Plus Bale Runner was the local dealer support at Riverton. "Knowing we have got that local support is great.''
Linc said the fact that ProAG's national distributor, McIntosh Distribution, had a warehouse in Adelaide for parts backup was a further bonus. "We find that this is a huge benefit for us and our customers. Of all our bigger franchises, none of them have that parts support,'' Linc said.