York Growers Become Early Morning Advisers for New Sowing System
07 June 2018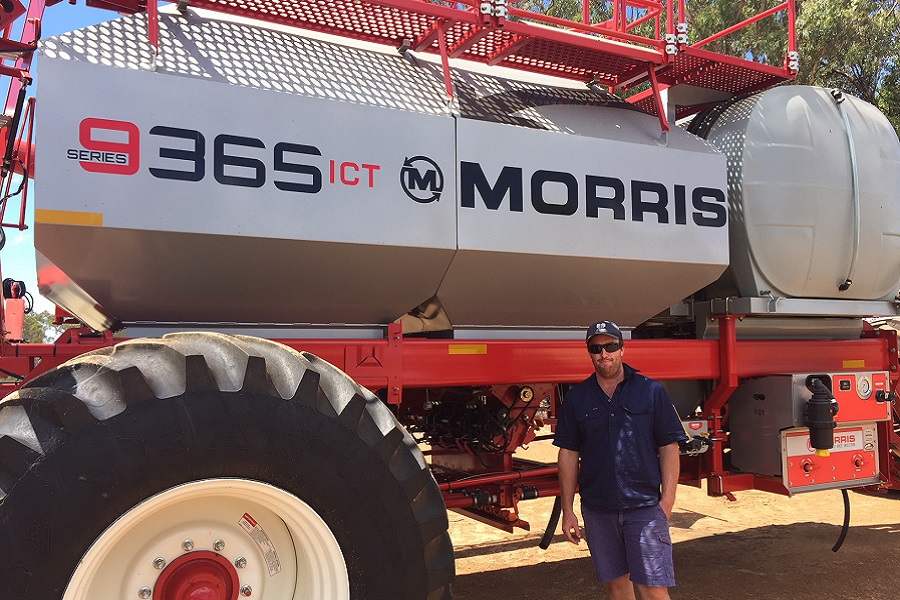 York grower Simon Chipper with the family's Morris 9365 air cart fitted with Input Control Technology (ICT), ready for a third season of input savings.
THERE'S not too many people who would be happy to answer a phone call from a stranger at 6am on a Sunday morning.
But when that stranger is a fellow farmer asking for advice on sectional control and you are as impressed with a product as the Chipper family has been with Input Control Technology (ICT), the wake-up call easily turns into an hour-long chat.
It's not an isolated case for the Chippers, as Simon and Sara, who farm at York with Simon's parents, Chris and Melody, have fielded many queries since they first spoke out about their experience with ICT almost two years ago.
Their property, 'Jimbin', is situated west of York, where they crop 2900 hectares to wheat, barley, canola and oats, and run about 1300 ewes.
They are using a Morris 9365 air cart, fitted with ICT, and 12-metre (40-foot) Concept bar set on 22.5 centimetre (9-inch) tyne spacings with a single shoot boot arrangement.
The air cart comprises two 6400-litre tanks and another 5000L tank used for Flexi-N liquid fertiliser, with the Chippers using six ICT sections, equating to six 2m sections across the bar.
Now heading into their third season with ICT, Simon said they were more convinced than ever that investing in the technology was one of the smartest decisions they had made, as it had eliminated overlap and saved them significantly on inputs.
"We worked out the cost savings in the first year of using ICT, and in compound fertiliser and Flexi-N, we were saving about $35,000, plus seed," Simon said.
"Last year, the system would have easily paid for itself. It was better than what we expected and after the first year with it, we realised it would pay itself off a lot quicker than we initially thought."
The Morris ICT is designed to eliminate overlap and save inputs by stopping product flow over the sections that are not required.
The ICT works via GPS and the new Topcon X35 controller with the Morris carts, using the gear drive system for the metering wheels to quickly engage or disengage, allowing instantaneous shut-off.
It runs individual metering wheels that can stop product immediately, however, the system remains primed with product and as soon as it re-engages, it is back in the air stream.
The new Topcon X35 also allows users to manage and control applications via mobile devices such as tablets and smartphones. The app and bluetooth connectivity provides a mirrored view of the in-cab monitor, allowing calibration of the air cart without having to return to the cab to enter data.
The Chippers decided to purchase an ICT system after becoming increasingly concerned about overlap issues, mainly due to irregular, undulating paddocks dotted with trees and rock heaps.
After successfully using sectional control when spraying, they hoped for similar benefits during seeding.
Simon said they had estimated an overlap of about 10 per cent prior to implementing ICT and had since found it had indeed been between 6.5-12.5pc across their property.
"For us, it's surpassed our expectations and we don't mind chatting to others who are looking at the system because it's been so successful for us," he said.
"One of the best features has been the ease of operation, as well as the back-up from Morris and our dealer, McIntosh & Son at Wongan Hills.
"We've had about five calls from other farmers asking about ICT, including Dad getting one at 6am on a Sunday morning. At least two of those ended up buying one for themselves.
"If you were in the market to buy a new air cart, I just can't really see why you wouldn't invest in the technology."