Esperance Growers Reaping Benefits of New Seeding Technologies
13 April 2018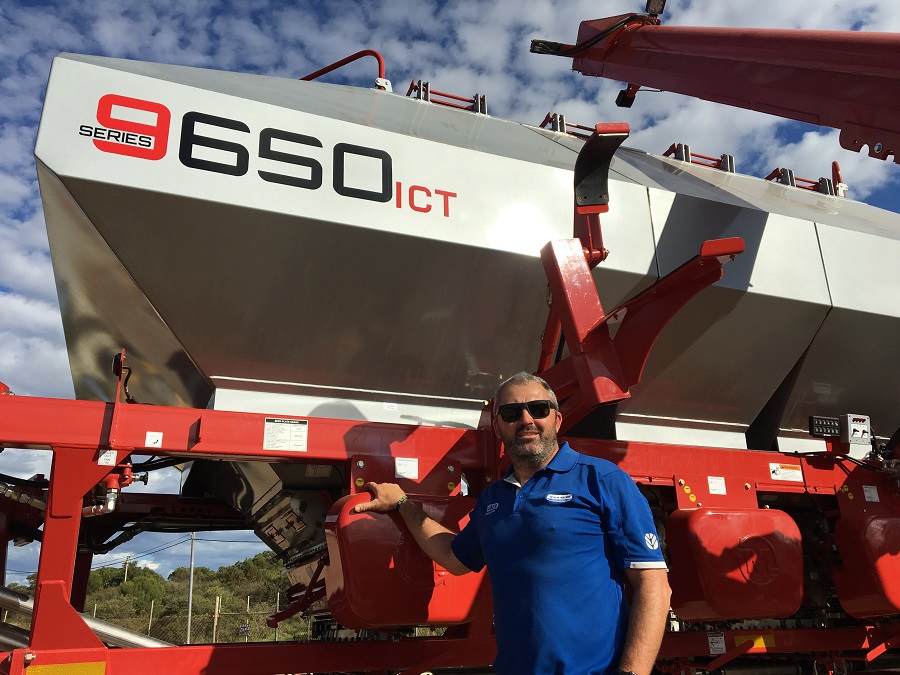 Photo caption: Dale Guest, Staines Esperance, with a Morris 9650 air cart with Input Control Technology (ICT), one of the most popular models with growers in the Esperance region. Staines is planning to demonstrate the technology with the Morris 9000 Series carts again this year during seeding in May.
FARMERS in the Esperance region are well-known for being early adopters of technology, especially when they see it will benefit their operations.
It's certainly been the case with Input Control Technology (ICT), which has proven very popular with growers in the area according to local agricultural machinery dealership, Staines Esperance.
Sales representative Dale Guest said the dealership had strong, ongoing demand and enquiry for Morris ICT, having sold at least 10 ICT units over the last two years.
Dale said growers who had implemented the technology were, on average, cutting out an overlap of eight to 12 per cent and directly saving on inputs as a result.
Available with Morris 9 Series Air Carts, the ICT system is designed to eliminate overlap and save inputs by stopping product flow over the sections that are not required.
"The Morris air carts have always been popular with farmers down here, as they are throughout the rest of WA and Australia, in large part because of the accuracy of the metering system," Dale said.
"When you have significant input costs and factor in overlap, being able to offer farmers technology which can eliminate that wastage takes it to the next level.
"We've got a machine that will basically save farmers money at seeding time, which is critical.
"A lot of our sales result from one farmer talking to another who already has a Morris air cart with ICT. And when he mentions the percentage he's saved with ICT, the other farmer wants to implement the same system."
Dale said all enquiries received for Morris air carts also now involved ICT.
The 9550 and 9650 models have been the most popular choice for growers in the region, which Dale put down to size and efficiency.
"Those models will give farmers the capacity they need, as they are generally looking to get 100 hectares per fill," he said.
"It also means they can go to that size cart, we can put it on 3-metre spacing and they can maintain their controlled traffic operation, which is a big factor for a lot of farmers in the Esperance region.
"Farmers in this area are very keen to take up new technology that will benefit their farming operation and the ICT has certainly been at the top of the tree in that regard.
"They've done the maths – they have gone out and sprayed a paddock and the accuracy of hectares when spraying is very high. They know they've done 120ha of spraying, but when seeding the same paddock it was 132ha. They then work that overlap out over the whole program and realise there are significant savings to be had from cutting that back."
The ICT works via GPS and the new Topcon X35 controller with the Morris carts, using the gear drive system for the metering wheels to quickly engage or disengage, allowing instantaneous shut-off.
It runs individual metering wheels that can stop product immediately, however, the system remains primed with product and as soon as it re-engages, it is back in the air stream.
The new Topcon X35 also allows users to manage and control applications via mobile devices such as tablets and smartphones. The app and bluetooth connectivity provides a mirrored view of the in-cab monitor, allowing calibration of the air cart without having to return to the cab to enter data.
Ease of operation is the most common feedback from farmers who have purchased Morris carts with ICT, Dale said.
"Whether we've helped them set up, or they've set their paddocks up in the rate control screen (Topcon X35), either way the system has been a flawless transition from what they've been used to before," he said.
"It also allows them the option of liquid or granular sectional control.
"We've got a grower who purchased a Morris 9550 tow-behind with ICT for seeding last year, and he has purchased a new Morris 9365 tow-behind, also fitted with ICT, in preparation for seeding this season.
"So he'll be running two air carts this year, both complete with ICT. What we're finding is that once people have used this technology, there's no going back."
Dale said Staines planned to host demonstrations with the system again in early May.